EFFECTIVE LINKEDIN MARKETING MADE EFFORTLESS WITH CODI LINKEDIN LEAD GENERATOR SOFTWARE
GENERATE LEADS & BUILD YOUR PROFILE AS A THOUGHT LEADER
"Extremely professional service across the whole team. CODI Agency has done amazing things for TX Tomorrow Explored's digital marketing presence."

BEN SHEPPARD – MANAGING DIRECTOR AT TX TOMORROW EXPLORED
THE CURRENT LINKEDIN ADVERTISING LANDSCAPE
BOOST OUTREACH WITH LINKEDIN MANAGEMENT

When it comes to connecting with industry and business professionals who can help expand your business, LinkedIn is the number one place to engage. Featuring more than 260 million active monthly users, LinkedIn is the leading platform for B2B marketing, lead generation, recruitment and corporate networking. But with the platform undergoing enormous growth in recent years, there's a lot of competition to overcome if you want to get your message across to the right people.
Fortunately, CODI has a stellar reputation for LinkedIn management services. Our tried and tested content strategies ensure companies and corporate influencers establish a massive following, who consider them the go-to source for thought leadership and industry know-how. In turn, this highly engaged following will help solidify your business' standing as an industry specialist and someone who's got their finger on the pulse of the market.
Backed by our incredibly experienced team of digital marketers, CODI's continuous research and testing has found that both community engagement and a high volume of specially curated content is the key to a successful LinkedIn marketing strategy. As we look to organically boost your online presence through a range of cutting-edge digital marketing techniques, our highly personalised LinkedIn marketing strategies are targeted directly to achieve your goals.
We also use our carefully designed LinkedIn advertising strategies to skyrocket your follower numbers and exponentially grow your personal network. Alongside the experts at CODI Agency, our powerfully tailored LinkedIn marketing services allow businesses and individuals to harness the priceless opportunities provided by this enormous professional network. Keen to get started? Get in touch with our expert team to discover how our LinkedIn marketing services will boost your reputation.
ATTRACT CORPORATE DECISION-MAKERS
Today, over 30 million companies use LinkedIn advertising to spread brand awareness and convert their target market. In many cases, these companies are trying to attract corporate decision-makers – the kinds of people who have the authority to purchase products on behalf of their organisation. With LinkedIn finding that 80% of its users drive business decisions, while the platform's audience has double the buying power of the average web audience, developing a razor-sharp strategy that captures these peoples' attention is critical to success.
As CODI has a wealth of experience when it comes to leading targeted LinkedIn marketing campaigns, we have the power to reach and convert the corporate decision-makers that matter most to your business. But this doesn't happen by magic. Instead, we use a selection of vital advertising metrics to plan and execute a precise campaign that will achieve your business goals. In combination with our deep understanding of your business and its key products and services, we can develop a LinkedIn advertising strategy that reaches your ideal customer base and outperforms your rivals.
Best of all, we can deliver incredible results that are also remarkably cost-effective. With research finding that the cost-per-lead for LinkedIn Ads is actually 28% lower than Google Ads, your business will benefit from a hugely impressive ROI.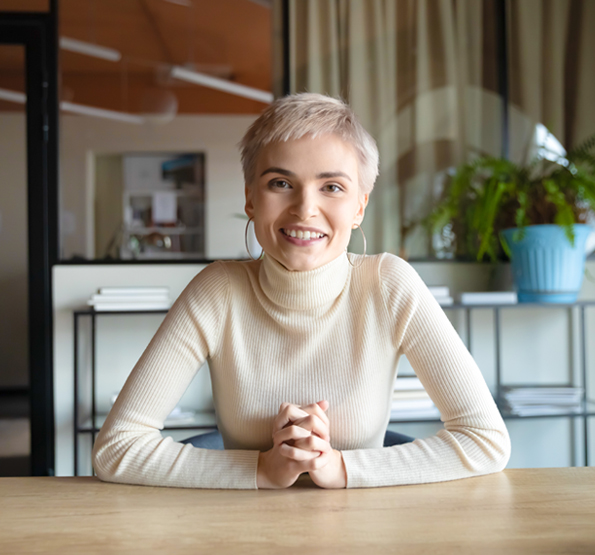 IDENTIFY THE PERFECT LINKEDIN INFLUENCER
Although people might usually associate influencer marketing strategies with platforms like Facebook, Instagram and TikTok, LinkedIn has also proven to be a remarkably effective platform. This is because forming a productive relationship with an influential figure on LinkedIn to represent your brand virtually guarantees that key decision-makers will be exposed to your products and services. If you choose the ideal LinkedIn influencer to serve as an ambassador for your business, they are bound to already have key individuals from your target market included amongst their connections and followers.
By working alongside CODI's talented team, you can have complete confidence that we'll identify the perfect person to spread your branded messages. With many digital marketers believing that Linkedin influencers carry even more weight compared to influencers on other social media platforms, having your partner share insightful content that showcases unmatched expertise is a great way to stand out from the crowd. As our agency has partnered with an array of leading business figures and companies to achieve their social media marketing objectives, we have the skills to lead a tailored LinkedIn influencer strategy from start-to-finish.
OUR RESULTS
Ready to take your LinkedIn game to the next level? This is what you can expect.
OUTREACH
5K+
Direct messages sent in six months
 to key stakeholders.
PROFILE VIEWS
3X
Increase in profile views
 over six months.
VIDEO VIEWS
60.6K
In six months posting two videos
per week.
ENGAGEMENT
1.5K+
Likes on content
in six months.
NICK BELL
Nick Bell is recognised as one of Australia's leading entrepreneurs under the age of 40. With just $350 of start-up capital, Nick has built a personal fortune of $217 million in only 10 years.
17.9k
NEW FOLLOWERS IN SEVEN MONTHS
450k

video views in six months
5m
in new revenue generated by linkedin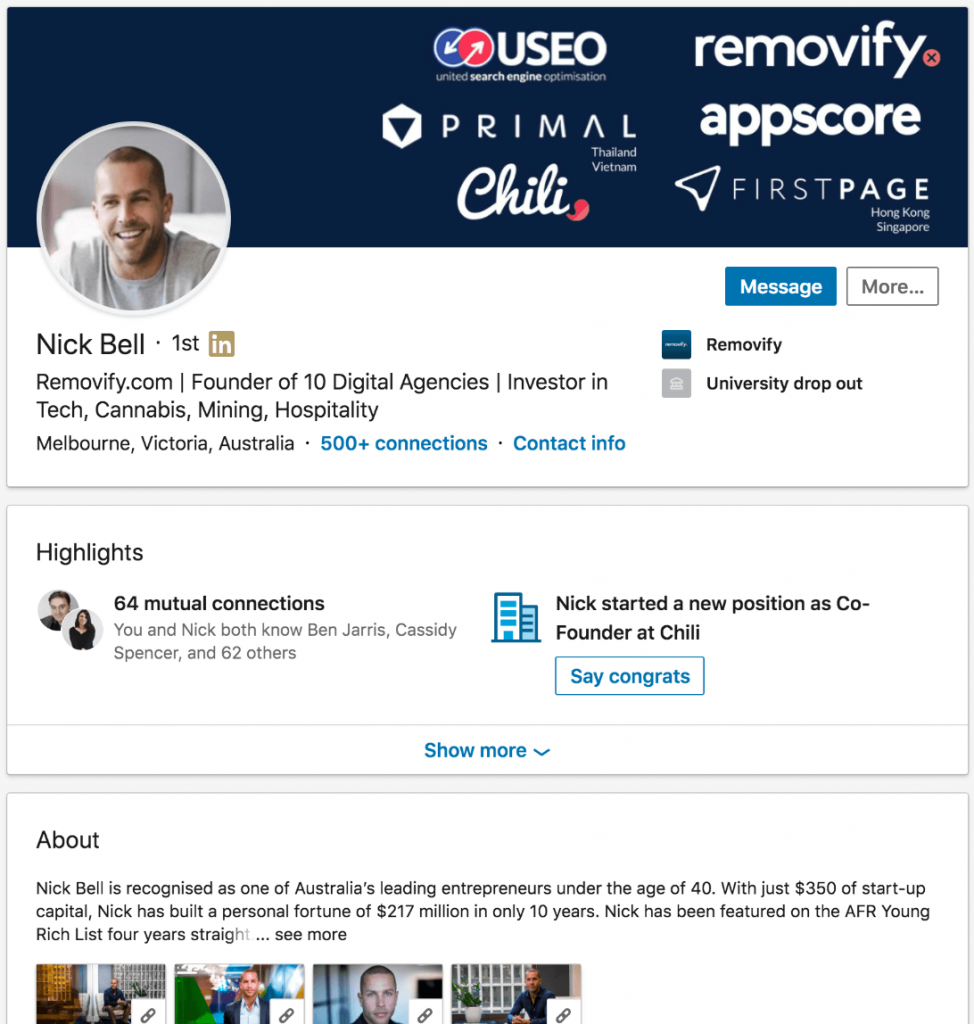 CONVINCED? REQUEST A FREE PROPOSAL
WHAT IS HAPPENING?
Currently, LinkedIn is focused on native and organic content instead of advertising. The reach of this content is based on an algorithm – not how recently you post – so without proper guidance, you can easily get lost in the noise and fall to the bottom of the pack. Our LinkedIn management services help businesses avoid wasting time on content creation that fails to grow their network or generate quality leads.
LinkedIn's growth and reach are now comparable to the heyday of Facebook five or so years ago. This means it's super important that your business jumps on this platform as soon as possible to ensure your LinkedIn advertising strategies deliver the maximum results from your efforts. With literally millions of corporate decision-makers to reach, a sharply targeted campaign will create a host of new and highly profitable opportunities.
Nearly 645 million business professionals use LinkedIn to seek employment, grow professional networks and share engaging content. Meanwhile, it's estimated that 45% of LinkedIn users are in upper management, which makes it the perfect platform to attract and convert the instrumental business demographic that's most relevant to your products and services. With 91% of executives rating LinkedIn as their first choice for professionally relevant content – don't miss your chance to smash your sales targets and establish long-term success. Fortunately, you don't have to guess when determining an approach to LinkedIn marketing that ensures your LinkedIn content will gain the right amount of attention. Our agency takes into consideration your account's reputation, what time you usually post, how much engagement past content generated and what else is being posted that day.
Alongside our detailed understanding of your ideal audience's demographics, our content production will maximise your engagement and reach, ensuring your LinkedIn marketing strategy grows your professional reputation bigger and stronger. Don't wait to kickstart your campaign. Reach out to our talented team to find out how our personalised LinkedIn marketing services will deliver the goods.

The CODI™ team always go above and beyond the call of duty to deliver exceptional results. I have benefitted enormously from their strong creative skills, widespread relationships and marketing expertise. I am so grateful to have the ability to work with them."
ANNA MITSIOS | EDIBLE BEAUTY AUSTRALIA