Get direct access to key decision makers WITH OUR CODI LINKEDIN LEAD GENERATOR SOFTWARE
INCREASE SALES, GROW YOUR BRAND & GAIN 10,000+ CONnections in 12 months
"Extremely professional service across the whole team. CODI Agency has done amazing things for TX Tomorrow Explored's digital marketing presence."

BEN SHEPPARD – MANAGING DIRECTOR AT TX TOMORROW EXPLORED
THE CURRENT LINKEDIN LANDSCAPE

LINKEDIN MANAGEMENT
Being present and engaged on the same platform as industry professionals is vital when growing and expanding any business. LinkedIn is the leading platform for B2B marketing, lead generation, recruitment, and corporate networking.
Our team work directly with LinkedIn to help you get direct access to the key decisions makers.
We have also developed CODI LinkedIn Lead Generator, a proprietary software that helps you find and reach your target market at scale, with effective messaging flows.
From our continuous research and testing, we have found that community engagement, a high volume of specially curated content, and targeted outreach, is the key to a successful strategy for boosting your online presence. We also use our unique strategy to help your follower numbers and personal network grow exponentially.
Want to get your brand in front of CEOs, CMOs, CTOs? We can help.
OUR RESULTS
Ready to take your LinkedIn game to the next level? This is what you can expect.
OUTREACH
5K+
Direct messages sent in six months
 to key stakeholders.
PROFILE VIEWS
3X
Increase in profile views
 over six months.
VIDEO VIEWS
60.6K
In six months posting two videos
per week.
ENGAGEMENT
1.5K+
Likes on content
in six months.
NICK BELL
Nick Bell is recognised as one of Australia's leading entrepreneurs under the age of 40. With just $350 of start-up capital, Nick has built a personal fortune of $217 million in only 10 years.
17.9k
NEW FOLLOWERS IN SEVEN MONTHS
450k

video views in six months
5m
in new revenue generated by linkedin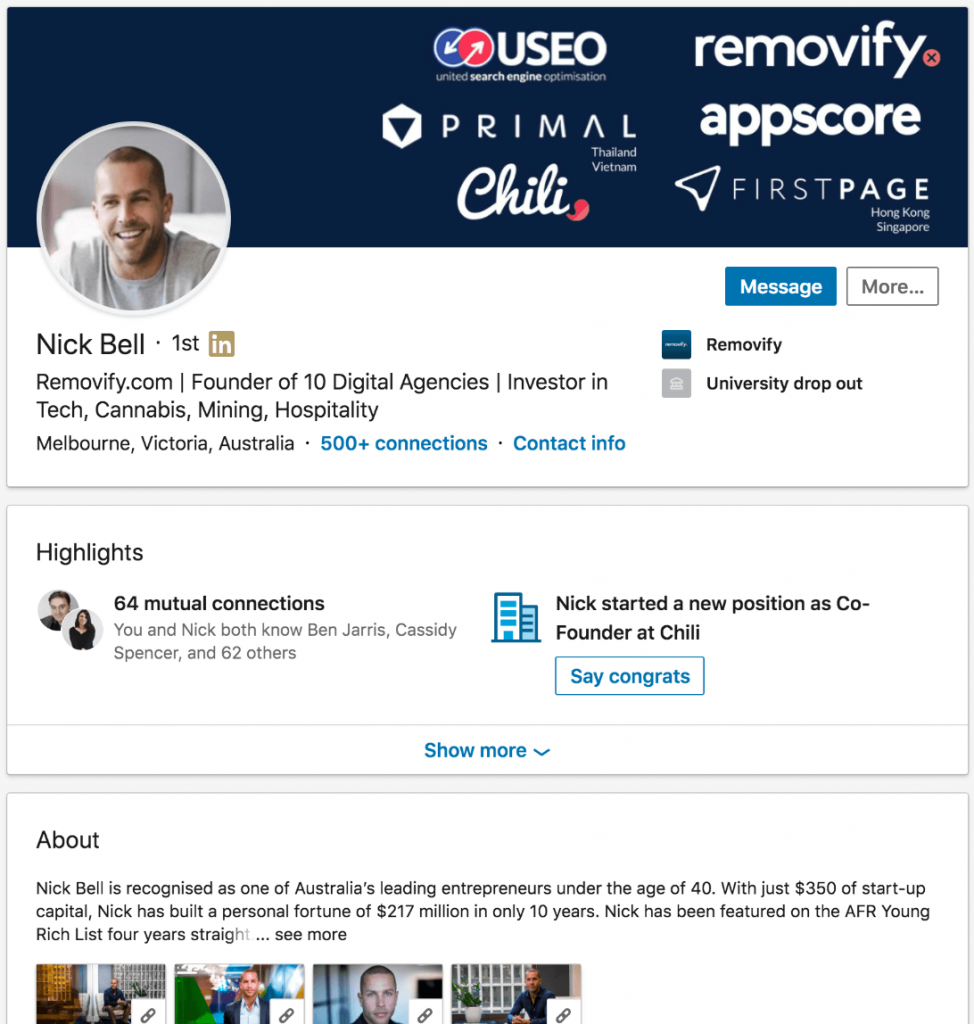 WHAT IS HAPPENING?
Currently, LinkedIn is focused on native and organic content. The reach of this content is based on an algorithm, not how recently you post – so, without proper guidance, you can easily get lost in the noise and fall to the bottom of the pack.
LinkedIn growth and reach is currently similar to what Facebook was in its heyday (5 to 7 years ago). It's important to jump on this platform as soon as possible, without delay, to ensure you get maximum results from your efforts.
Nearly 645 million business professionals use LinkedIn to seek employment, grow professional networks, and share engaging content. 45% of LinkedIn users are in upper management, which makes it the perfect platform to reach your target business demographic. 91% of executives rate LinkedIn as their first choice for professionally relevant content.
There are a few factors that determine how your LinkedIn content will rank, things we take into consideration is your account's reputation, when you post (LinkedIn favours a more natural posting schedule), how users have previously engaged with your content, along with what else is being posted that day. We use all determining factors to ensure you maximise your engagement and your reach, helping you stand out!

The CODI™ team always go above and beyond the call of duty to deliver exceptional results. I have benefitted enormously from their strong creative skills, widespread relationships and marketing expertise. I am so grateful to have the ability to work with them."
ANNA MITSIOS | EDIBLE BEAUTY AUSTRALIA
CONVINCED? REQUEST A FREE PROPOSAL